In the August issue, Martin Hoover talked about the advantage of staying local in a sea of companies striving to expand. He stressed that being the best local service company can result in way more success than any company expansion. In this issue, Will Merritt adds to this discussion – this time from a marketing expertise point of view.
Why Customers Prefer the Local Choice
Everyone prefers to use a local company.  Most people appreciate a company that is a part of the local community, someone that gives back and is a fixture in the town. Understanding how to use this aspect of your business to your advantage is key when marketing locally. But given so many companies have lost their personal touch, this is a time when customers value the local trust a small company within the community engenders.
Google My Business
Even Google started to focus on "local" businesses, in 2018, when the internet wasn't as location-focused, Google made the move to "localize" the internet search. That's when things truly started to change for local companies within the home services industry. The effort began to drive search results to local businesses, ones that were in close geographical proximity to the search source and changed the game for the small business owner.
Your HVACR business cannot be right around the corner from every home or business owner in need. And most home service companies have only one physical location. So, how do you use your local status to drive leads to your company?
Here are some ways to get Google to find you in every relevant search locally:
Google My Business (GMB) is a good way to showcase your heating and air company. Every contractor should refine their GMB profile and make sure it gets found. 
You should also do the following:
•    Keep your company information current and up to date.
•    List your company as a "Service-Area" business.
     Go to Google.com/business and log in with your credentials. Select the "Info" tab. Then "Add a service area."
•    Add pictures regularly and tag them properly.
•    Create Google posts as often as possible.
•    Drive as many reviews as you can to your GMB profile, and respond to them, preferably within 24 hours.
•    Be sure to enable messaging.
•    Get a Google Badge (Screen, Verified, Guaranteed).
•    Make sure your business hours are correct and match your website hours.
•    Enable appointments; any good calendar plug-in can enable appointment scheduling.
•    List all your local service areas. 
•    Make sure you have GEO pages on your website or pages dedicated to locations in your city or state.
Your goal should be to show up on Local Google Maps Pack when people are searching for services, such as, "AC Repair" or "HVAC Service" with a location modifier (Charlotte, NC or Miami, FL) or "near me".  An SEO'd Google Business Profile is the top-ranking factor for the Local Maps Pack. (Neil Patel) 
Every page of your business should have all the various search terms and all the possible GEO locators that may be searched.
Do You Have Multiple Business Locations?
Many HVACR businesses cover a wide geography, for example, a metro area or a large rural area.  It can be very advantageous to open a 2nd location, but you need to let people know where that is or no one will find you.  We have witnessed great success with companies that open a small satellite office, when they have a local address in an area the business wants to serve. Some companies will open several small locations. The key here is to make sure it is a brick-and-mortar building with signage.  Google Locations is looking for the actual building and signage.  Google frowns upon UPS stores meaning your address is at a P.O. box or a shared office space. Chances are if you do this, Google will shelf you when customers are looking for an HVAC company near me – which is often the search term. An actual location will allow you to show up more often in local searches and ultimately drive more sales.
Pay Per Click and Google Local Ads
Another way to land on Google Maps is through paid advertising. Your business will show up as a "Sponsored" location at the top of the local maps pack. It will make your HVACR Company show up as a local option even though your business may not be the closest to the online searcher. Indeed, the adage applies here – you get what you pay for. (See Below)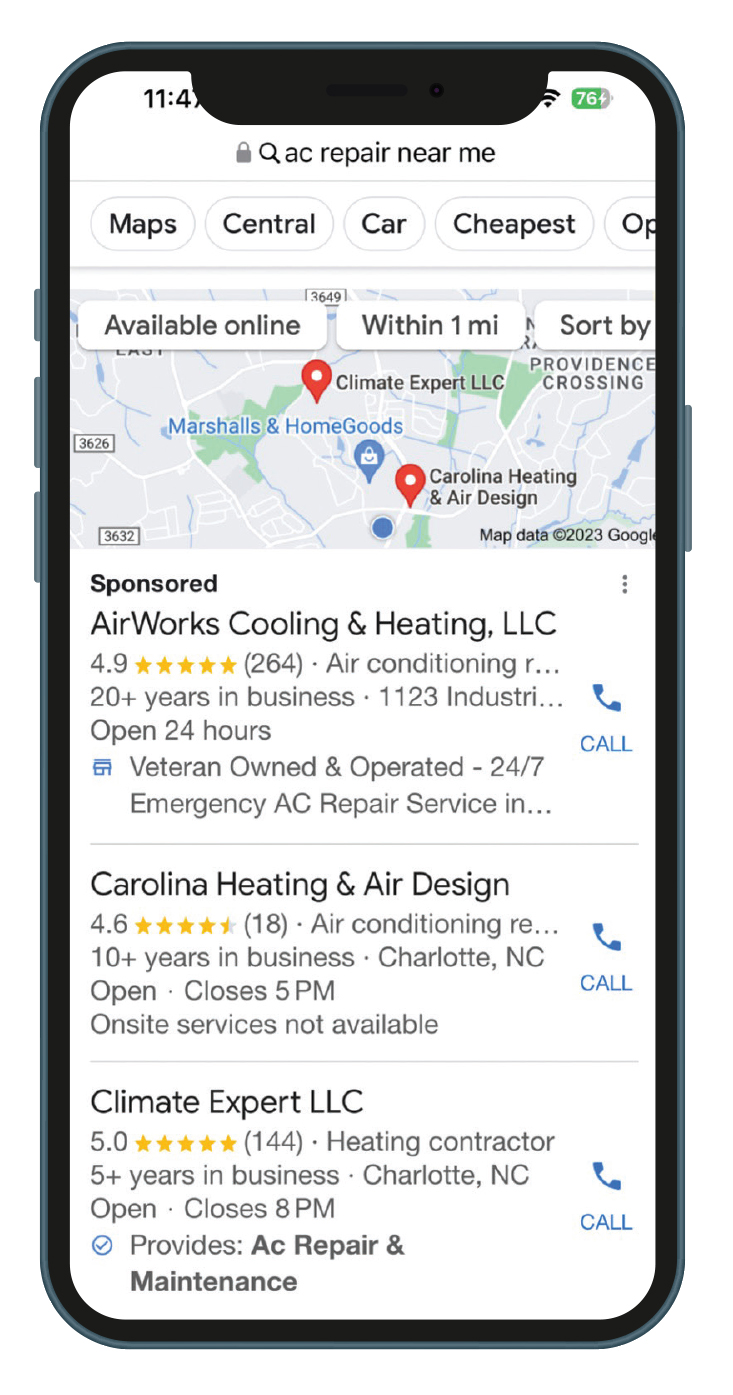 Recent Changes in the HVACR Industry 
The HVACR industry has changed drastically in recent years – everything from proposed refrigerant changes, supply-chain issues spawning from COVID-19, massive price increases, efficiency changes, and continued consolidator movement driven by private equity groups. These events have created additional challenges for contractors today. One thing we can count on in the heating and air conditioning business is change. But does the consumer care about the changes in the service industry? Have you asked your team, "How do these changes impact our customers?"
What Does the Consumer Care About? 
How have changes, particularly regulatory changes, impacted the consumer – your customer? And do customers who patronize local brick-and-mortar companies care about changes industrywide? Well, the answer is "yes" and "no". No, they don't care much about refrigerants or supply-chain issues. However, they do care about keeping their family or business comfortable. For you, this means that if you work to secure your reputation within the community as a small, locally owned, and trusted business, then it will strengthen your curb appeal and your ability to compete with a nationally owned chain. Larger companies with multi-city or multi-state footprints are great, but many would-be buyers of heating and air equipment prefer the local choice. 
Consumers Prefer Locally Owned Businesses 
For the same reason that local HVACR companies thrive off word-of-mouth referrals and must keep a good reputation in the community, customers prefer to patronize the local shop owner as well. When you live and work in the local city, it means you interact with the local schools, restaurants, and churches. You are seen as an active part of your community. Consumers not only identify with that, but when they ask a friend whom they trust to be their HVACR company your name should be the first on their list. Other types of companies still have a place and space in business, however, survey after survey shows that customers still prefer local businesses.
Customers also feel like they are giving back to the community when they select a local brick-and-mortar firm. A recent study from the New York Post reveals that 9 out of 10 people rely on small businesses for purchases. Said the article:
A whopping 88% know someone who is employed at a small business in their community, with the average person knowing four names of small business employees. The survey…highlight[s] the impact of small businesses ahead of Small Business Saturday, found that people regularly rely on a small business for everything from manicures and pedicures (54%) to handyman services (45%) and haircuts (44%).
Focus on Your Strengths – Your Local Brand
Your heating and air company, your family, and ultimately your brand, are all a part of the "local" community. You must capitalize on your place in the community and your unique brand. Consumers only purchase heating and air systems 2.5 times in their lifetime on average, so the purchase is few and far between. This is why branding yourself as the "local" HVACR contractor is so important. As home service providers, you are entering someone's sacred space, a person's home. If they see your company involved in the local community, at the local church, or at charity events, it will build trust in the community. Local advertising on traditional outlets, such as TV, radio, and billboards works great! 
But do not discount the value of grassroots marketing and its importance:
•    Local sports team sponsorships, ie. uniforms for kids' baseball teams 
•    Member of local neighborhood Facebook groups 
•    Nextdoor
•    Yelp (Be sure to CLAIM your page)
•    Homeowner associations
•    Sponsor local events especially school events, food drives, and media-covered events
•    Referral programs
•    Fleet wraps! Every time you park your truck, another local resident will see your branding
What Messaging Works for Local Contractors?
So how do you become "the" local choice? Remember your target customer wants to purchase from you over the big box store. Let's reinforce what makes your company local with the right messaging and discover how you can stand out. Actively grow your maintenance customer base!  This creates long-term loyalty and greatly increases your interaction with local customers – some of whom will be living in the neighborhood for ten to twenty more years. You need to create a relationship. But remember, you are out of sight and out of mind for most homeowners until their HVAC breaks! Continue to drive your "local" branding messaging through whatever marketing or advertising platforms. 
The following messages work well:
•    Locally owned and operated…
•    Be a part of the city you serve. Example: "Proudly serving Orlando for the last 20 years!"
•    Name the number of years in business, especially if it's a legacy, family-owned business.
•    Claim your place. Example: The Community's Most Trusted HVACR Company…
•    List testimonials from the community on your site, on your marketing material, and on socials.
Hard work, consistent messaging, and community involvement will help your heating and air conditioning company become the BEST local choice for consumers. Remember, the three principles consumers look for in a home service provider: Trust, Value, and Fixed Now. Use the "local" option to support the customers' need for those values!
Will Merritt is the managing partner at Effective Media Solutions in Charlotte, NC. He has more than three decades of experience creating marketing solutions for business owners. For more, visit http://myeffectivemedia.com or email will@myeffectivemedia.com